Welcome November! Now's the time to catch up on October, and this month was all about practical content for A/B testing. Dive in if you're looking to study up on how to get the most out of your A/B testing strategy.
Follow along as I walk through how to create a multipage campaign in SiteSpect using the search and replace function. This blog is a must read if you're a marketer new to using SiteSpect. We can learn along together. Read the blog.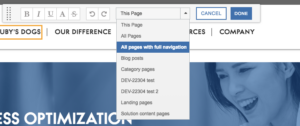 If you're investing in a new marketing software, you need to know that you're going to see an ROI quick. In this interview with SiteSpect Senior Director of Customer Success, we break down how we make sure our customers see that return right out of the gate. Read the blog.
Check out how this brand was able to implement a multipage A/B test that also worked with a third party software to track inventory and create a call to action for out of stock items. Read the blog.
To learn more about SiteSpect, visit our website.