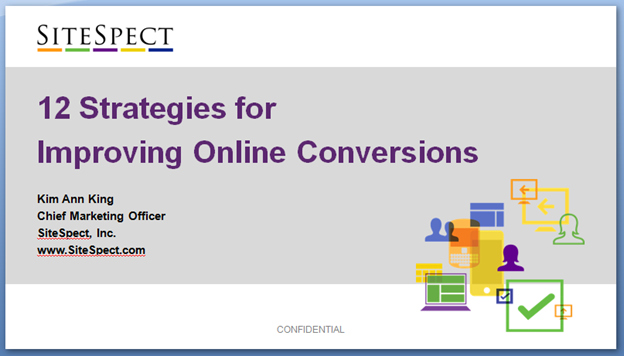 SiteSpect's recent webinar on "12 Strategies for Improving Online Conversions" attracted hundreds of attendees from top brands, financial services firms, and conversion rate optimization agencies. The recorded version is now available for viewing on demand. For additional information, you can also download the companion eBook.
Our presenter, Kim Ann King, Chief Marketing Officer of SiteSpect, discussed 10 tips to maximize conversion drivers and 2 ways to minimize barriers:
To maximize conversion drivers:

Define your Value Proposition
Create Relevancy
Ensure Consistency
Ensure Clarity
Create Urgency
Use Scarcity
Leverage Reciprocation
Promote Social Proof
Create Likeability
Establish Authority
To minimize conversion barriers:

Reduce Friction
Alleviate Anxiety
During the webinar, Kim provides specific examples of what to A/B test for each strategy. After viewing the webinar, you can put these tips into action right away to increase your conversions. Kim also proposes a strategy to implement all of these great A/B testing ideas.
Did you attend the webinar or watch on-demand? If so, we'd love to hear your feedback! Which conversion strategy do you plan to put into action first?
To learn more about SiteSpect, visit our website.