If you test a new variation on something like a product detail page, you probably need that change to appear on every product detail page. That can seem daunting — especially if you have a lot of inventory or your inventory changes regularly. It can get even more complicated. What if you want it to appear only on the product detail pages with items that are out of stock, or on all the product detail pages but only when the user has already added something to their cart?
In a lot of testing tools you have to do this manually. But because SiteSpect works based on Find and Replace, you can define your page criteria, make the change once, and see it apply everywhere it's supposed to. In this blog I'll walk through how you do that. (Bonus, you can do this in the Visual Editor or in Find and Replace mode, it works the same way).
Defining Your Triggers or Page Categories
Once you start creating your new campaign you can define where it will apply in "Triggers." The Trigger could be a component of a URL (for example all urls that contain "/products"), part of the page source, a parameter, geo location, header, visitor behavior, audience, or page category. This means that your change will apply on any page that meets all of the specified  criteria.
From here, you tell SiteSpect what it should look for in each of these instances. This could, again, be in line with your Trigger, or something else entirely. For example, you may want to change your hero image on every page that is also a product detail page. But not on other page types. So when users arrive on a product detail page they see a new hero specific to that category. Your Trigger would be product detail page, and you would tell SiteSpect to find the header and change it to the new one.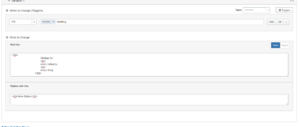 Applying Changes in the Visual Editor
This works as well is the Visual Editor.
If you're working with the Visual Editor, you can define your page categories ahead of time, using the same method, in "Page Categories."
Then when you make a change in the Visual Editor,  you can choose which pages it applies to.